GÉANT's next generation terabit network
Future-proofing the GÉANT network to 2020

GÉANT announced in May 2012 a major investment to support capacity of up to 2Tbps (terabits per second) across its core network. This page will provide regular updates on the status of the rollout of that network, and further information on the equipment and suppliers behind the new network.
The need for speed
Creation and sharing of data is increasing exponentially, impacting research networks, high performance computing and grids - collectively known as e-infrastructures. Major projects involving global partners, such as CERN's Large Hadron Collider and the forthcoming Square Kilometer Array, generate enormous amounts of data that needs to be distributed, analysed, stored and accessed for research. This need for fast, stable transfer of data depends heavily on the high speed and dedicated bandwith offered by research networks such as GÉANT.
After an extensive procurement process, Infinera and Juniper Networks demonstrated the best match for our stringent criteria, combining leading edge technology with ease of use and a vision for the future that matches GÉANT's needs moving forward.
Providing over 40 million users with superfast and highly resilient terabit networking
Imtech will provide the data packet switching platform using Juniper Networks MX Series 3D Universal Routers with 100Gbps capability, Juniper Networks Junos® Space, and JunosphereTM.
As an early customer for Infinera's latest DTN-X optical transmission equipment, GÉANT has a route to a network that will meet the ever-expanding requirements for higher speed transmission to support more and more data.

Technical Briefing
The core Transmission Network is built on the back of the Infinera DTN-X solution - a mix of the "XTC" (Add Drop multiplexer) and "OTC" (Optical Line Amplifiers) utilising EDFA/ RAMAN Amplifiers.

A 5Tb switch solution employs the latest PIC (Photonic Integrated Circuits) 500Gb line cards and allows 100Gb Client interfaces. The New Network is SONET, SDH, OTN and Ethernet compliant with full mesh restoration using the GMPLS.

Over the 6 month build period to March 2013, the new network will have:
12,000 km of fibre connectivity (24,000 km of actual fibre, equating to halfway round the world)
16 New PoP (Points of Presence) sites will be built
127 New OLA (Optical Line Amplifier) sites will be built

The following map shows the current status of the migration. This map will be updated on a regular basis, and previous maps can be accessed below.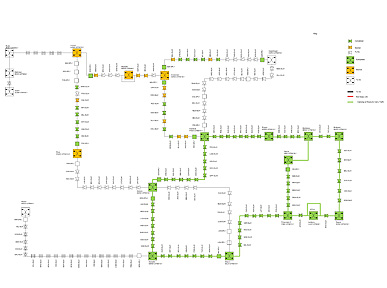 Previous maps:


Network Map November 23 2012


Network Map November 30 2012


Network Map December 11 2012


Network Map January 10 2013


Network Map January 20 2013


Network Map January 25 2013


Network Map February 22 2013

Further reading: