Innovative Technology – flexibility, reliability and speed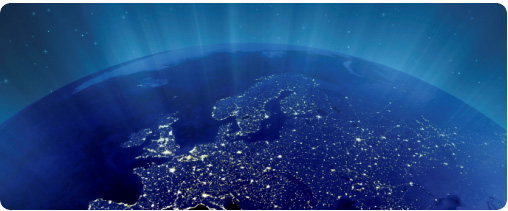 GÉANT was the first "hybrid" network deployed on an international scale, using an innovative combination of routed IP and switched infrastructure, and delivering leading-edge standards of reliability. The network design for GÉANT focuses on maximising operational and service flexibility.
All networks send information by splitting the data into packets (or chunks) and routing or switching these across the paths in the network. As a hybrid network, GÉANT offers unprecedented flexibility in how the packets are managed.
The GÉANT network is made up of a general purpose research internet carrying multiple users' traffic, and virtual "private" network paths dedicated to carrying the traffic of individual projects that have particular requirements relating to aspects such as quantity, security or accuracy of the data.
The aim is to meet the needs of different types of user with the most appropriate technology.
Combining the two transmission methods in one network is innovative and opens up new service possibilities. GÉANT has led the world in deploying this hybrid technology in a production network on an international scale. European research networking provides state-of-the-art advanced connectivity services to users, their institutions and projects.
No other region in the world provides services that offer this level of performance, flexibility and choice for research and education.