Federated Network Architectures

Federating networks means to share resources among multiple independent networks in order to optimise the use of those resources, improve the quality of network-based services, and/or reduce costs. The main challenges relate to management, technological differences, missing standards, cost model and the federation-independent presentation of services.

Focus of research:

Defining federation and its key parameters.
Assessing the user demand for federated networks based on an analysis of current and future large-scale projects requiring international data transmission.
Evaluating a selection of existing GÉANT tools and services that could serve as building blocks for federated networks.
Designing, verifying and refining architecture models for building federated networks.
Investigating the implications of establishing a federated Point of Presence (PoP) via a test and demonstration case.
In collaboration with the Task researching Virtualisation, designing a slice-based federation control and operation framework.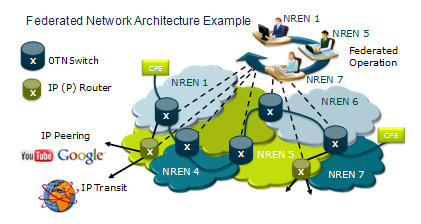 Specific aspects being researched include:
Optical Transport Network (OTN) switches or advanced packet switches as a solution for multi-domain interconnections, providing intelligent add/drop capabilities and enhanced utilisation of cross-border fibre capacity to turn a multi-domain junction into a dynamic adaptive switching bridge.
Operations, Administration and Maintenance (OAM) and Service Level Agreements (SLAs).

Results:
The results of the investigation into federation have been documented in the following project reports, papers, poster and video presentation: