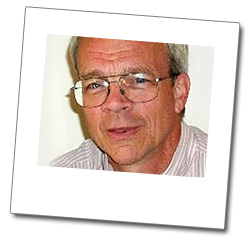 Scott Kirkpatrick
Professor, School of Engineering and Computer Science, HUJI
Scott KirkpatrickScott Kirkpatrick is Professor of Engineering and Computer Science at the Hebrew University, Jerusalem, Israel.
His research in recent years has focused on understanding the structure and dynamics of large scale distributed systems, and the growth of living engineering organisms such as the Internet. He directed the EVERGROW integrated project, which mapped the physical Internet from thousands of lightweight software clients, and participates in the OneLab2 project, part of the FIRE federation of testbeds for future Internet research.
Prof. Kirkpatrick received his PhD, in Physics, from Harvard University. He was a researcher and manager in physics and computer science at the IBM TJ Watson Research Center, from 1971 until 2000, when he moved to his present position.