Current and Potential Uses of Virtualisation

In the context of network and computing infrastructure, virtualisation is the creation of a virtual version of a physical resource (e.g. network, router, switch, optical device or computing server), based on an abstract model of that resource and often achieved by partitioning (slicing) and/or aggregation. A virtual infrastructure is a set of virtual resources interconnected together and managed by a single administrative entity.

Focus of research:
Investigating potential uses, benefits, disadvantages and risks of infrastructure virtualisation services for the GÉANT and NREN communities compared to traditional operation.
Analysing and assessing existing major activities, research projects and technologies that address infrastructure virtualisation.
Investigating NRENs' requirements for using infrastructure virtualisation technologies in the near future.
Defining a multi-layer, multi-domain and multi-technology virtualisation architecture.
Proposing a generic, technology-agnostic solution for integrating and interworking existing virtualisation mechanisms and solutions at different layers, leaving the choice of suitable virtualisation technologies to individual NRENs, while enabling them to offer multi-domain, multi-layer and multi-technology virtualisation services.
Developing a fully-featured test and demonstration virtualisation mechanism capable of supporting multi-domain, multi-layer, multi-vendor and multi-technology.
In collaboration with the Task on Federated Network Architectures, defining an infrastructure slicing architecture, tools and mechanism for virtualisation.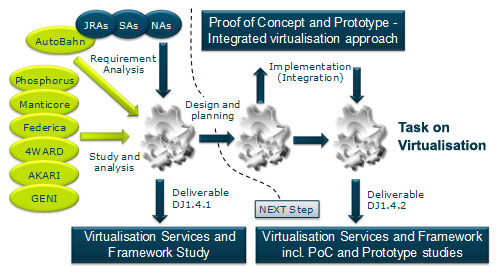 Results