Control and management

Control and Management research investigates the use of standardized approaches for business process oriented service provisioning and the introduction of next-generation operations support systems principles in GN3.
Focus of the research

The analysis of the existing standardized network management models and their applicability to GEANT environment.
Business process analysis: Starting from the widely adopted standard TMF eTOM business process framework, define a business process framework applicable to the GÉANT multi-domain environment.
Workflow analysis: Using the developed business process model create and analyze typical workflows for multi-domain service operations.
Existing tool analysis: Analyze existing GN3 service supporting tools according to the developed and standardized frameworks.
OSS component requirements definition: Define the requirements specification for software components for GÉANT multi-domain environment that support some of the key network management functions.
Secure management principles: Analyze existing tools and give recommendations for securing network management applications.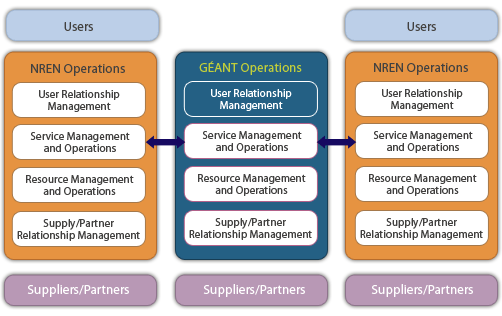 Network management standards being analyzed from:

TeleManagement Forum – TMF
ITU-T – International Telecommunications Union
ETSI-TISPAN - European Telecommunications Standards Institute Telecoms and Internet converged Service and Protocols for Advanced Network
DMTF - Distributed Management Task Force
ITIL – IT Infrastructure Library
IETF - Internet Engineering Task Force
OGF – Open Grid Forum

Aims and Results

The research aims to define a business process framework customized for the GÉANT environment, defining typical workflows using the developed model. In addition, the functional reorganization of existing service supporting tools as well as the introduction of new OSS will offer efficient service orchestration and an improved user experience for the pan-European research and education community. The final goal is to define the path for the migration of the existing service supporting tools towards a next-generation OSS environment
The Network Management Architecture (NMA), a standards-based approach to service delivery, processes and supporting tools, has been a major achievement. The NMA introduces a layering of network management, service management and customer relations management which is expected to significantly improve the operator and user experience. The best practices and standards behind it ensure service composition but also vertical integration of policies, capacities allocation, and trouble handling (at the resource, service and user level).
Coordination of NREN NOC processes to provide multi-domain services, a componentized-expandable architecture of service supporting tools (as opposed to silos of one tool per application) and OSSs and SOA principles are tied under this approach. The need to offer an architecture where software systems and capabilities can be coupled as needed without affecting or re-inventing basic functionality are fully addressed by the NMA concepts.