Event Venue


Moderna Museet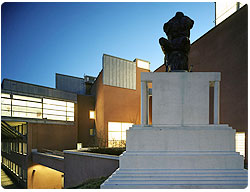 Skeppsholmen
Stockholm
+46 (0)8 - 5195 5200
Moderna Museet (Museum of Modern Art) is situated on the beautiful island of Skeppsholmen in the heart of Stockholm. The conference will be held in the main auditorium and breaks and lunch will be taken amidst the collections of art and architecture.
The museum is fully accessible for the disabled.

During the conference the main exhibition at museum will be Dalí featuring Francesco Vezzoli. The contemporary Italian artist Francesco Vezzoli (b.1971) has been invited to add co-curatorial input as well as an artistic intervention in the exhibition alongside one of the most important artists from the 20th century.
It has been 25 years since the works of Salvador Dalí were last presented in Stockholm.
Dress Code
The dress code for the conference is business attire.
WALK
Moderna Museet is ten minutes away from Kungsträdgården, and twenty minutes from T-Centralen or Gamla Stan. Walk past Grand Hotel and Nationalmuseum on Blasieholmen, opposite the Royal Palace. After crossing the bridge to Skeppsholmen, continue up the hill. The entrance to Moderna Museet and Arkitekturmuseet is on the left-hand side.
BUS
Buses 65 leave from the T-Centralen and stops at Moderna Museet on Skeppsholmen.
Visit www.sl.se for more information
Disabled Parking
Parking for the disabled outside the main entrance and the entrance facing the water.
Gala Dinner Venue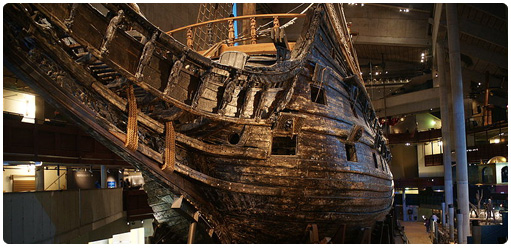 The Vasa Museum
Galärvarvsvägen 14
Stockholm
+46 (0)8-519 548 00
The Vasa is the world's only surviving 17th-century ship and one of the foremost tourist sights in the world. The ship is displayed in a purpose-built museum in Stockholm. The evening will commence with a drinks reception followed by a guided tour of the ship and then dinner.
The museum is accessible for the disabled, there are lifts to all floors.
Dress code for the dinner is smart casual but please note that the Vasa Museum's main hall maintains a constant temperature of 18 degrees Celsius, we therefore recommend appropriate clothing.
Transport to and from the Gala Dinner
Buses will leave at 18:30 and 18:40 across the street from the main entrance of the Central Station at Vasagatan 16, which is in front of the Best Western Hotel Terminus and take guests to the Vasa Museum.
A bus will also leave from Hotel Skeppsholmen at 18.40 to the Vasa Museum.
Return buses will leave at 22:15, 23:00 and 23:30 to stop at Rica Hotels (Kungsgaten and Stockholm),Best Western Kom Hotel, Comfort Hotel Stockholm, First Hotel Amaranten and Hotel Skeppholmen.
WALK
From the T-Centralen: 30 minutes.
From the Karlaplan station: 10 minutes.
BUS
Buses 47 and 69 leave from the T-Centralen. Bus 44 from Karlaplan. Visit www.sl.se for more information.
Disabled Parking
Disabled parking (4 spaces) is available just outside the museum entrance.