Research & Education Networks

Research networks are an essential part of many research and education activities. These networks provide the data communications connectivity needed to allow researchers and academics to collaborate together in their work.

Research and education networking in Europe is organised in a hierarchical fashion, connecting research and education community users. The network connection between two end users will be provided by a chain of several networks, each connected to the next. This chain will typically start with a campus network, then may include a regional network before connecting to a national (NREN) network. Then to the pan-European backbone GÉANT, from there to another NREN and so on back down the chain to the user at the other end.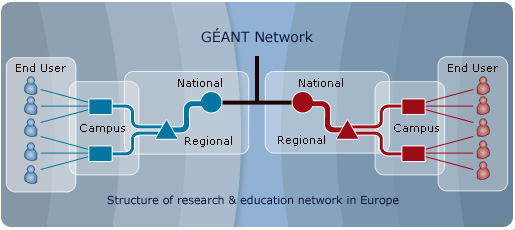 Illustration of a cross-domain supply chain of data communications

These different networks encompass multiple, differing network architectures at each level, using a diverse range of technologies, operational approaches and procedures within their own individual networking domain. So the campus network will be different to the local regional network, which will be different from the NREN, which will be different to GÉANT - and so on down the other side of the supply chain back to the end user. Making sure they can work together is vital.

Much of the GÉANT Research Programme is directed at addressing the issues of this multi-domain environment, to ensure seamless, end-to-end provision of services wherever users are.

Through its research programme and organisational model, GÉANT offers core advantages over alternative, commercial providers including:
Maximum efficiency in the centralisation of network management.
A high concentration of networking expertise in support of European research and education.
Access to users in countries and regions around the world to resources and equipment which would otherwise be out of their reach.
The GÉANT network is fundamental to the EU's vision of a European Research Area, enabling academic collaboration across Europe and serving to reduce the digital divide of research and academic networking.