Multi-domain User Application Research

The Activity for multi-domain user application research (JRA3) aims to enhance the federated framework to enable users to access a variety of applications that run beyond the web space. The multi-domain user application team also researches how new technologies can be introduced in the services operated by the Multi-domain User Application Services Activity (SA3), such as eduroam® and eduGAIN, addressing new use-cases that might emerge mainly from this Services work, but also from other of the Services or Joint Research activities, with particular attention to standards.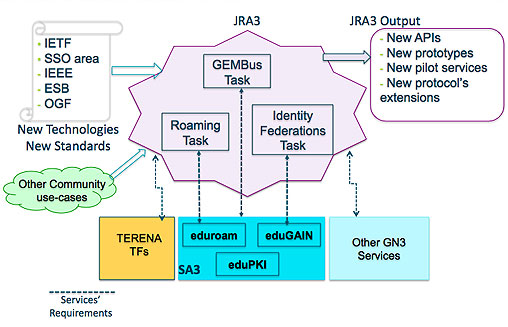 Part of the research work carried out focuses on adding Service Oriented Architecture (SOA) features to the federated framework to create a new architecture to define, discover, access and combine services in the GÉANT multi-domain environment.
The work of the Multi-domain User Application Research team falls into three main areas and involves participants from 15 NRENs, developing software and providing their expertise in identity management technologies. The Activity Leader is Licia Florio or TERENA.
Multi-domain User Applications Research Areas
Roaming
Enhancing the eduroam® infrastructure and exploring new roaming technologies and their impact on eduroam.
Identity Federations
Enabling the (federated) access to infrastructures and services to support non-web applications and developing a scalable model for inter-operability of Identity Federations.
GEMBus
Developing architecture built on the SOA principle to compose existing services and infrastructures to create new services. This architecture is known as GÉANT Multidomain BUS (GEMBus).